Black Patients are most likely to die from atrial fibrillation.
The Journal of the American College of Cardiology, by Faye L. et al., highlighted in the article Racial and Ethnic Considerations in Patients with Atrial Fibrillation: JACC Focus Seminar that patients with Atrial Fibrillation are at increased risk of ischemic stroke heart failure, myocardial infarction, sudden cardiac arrest, chronic kidney disease, dementia, and overall mortality. Several studies investigated the potential racial/ethnic differences in the effect of Atrial Fibrillation on the rates of these various outcomes. The study summarized the difference per 1,000 in the rate of stroke associated with Atrial Fibrillation was 21 in Black patients compared with 10 in White individuals; similar differences per 1,000 were seen for heart failure (101 vs. 72), coronary artery disease (45 vs. 26), and overall mortality (106 vs 56).
This article shown that treatment is one of the foundations to obtain equitable care for all patients with atrial fibrillation, as recommended by the ESH 2023 guidelines: "the use of single pill combination should be preferred at any treatment step". Also, ACE inhibitor and a beta blocker in one tablet is recommended in that kind of patient. ¹
Click here to read more : here
2023 ESH Guidelines for the management of arterial hypertension The Task Force for the management of arterial hypertension of the European Society of Hypertension Endorsed by the European Renal Association (ERA) and the International Society of Hypertension (ISH) - PubMed (nih.gov)
ACE: Angiotensin converting enzyme, ESH: European society hypertension
SCAC 07/23 DM 424 SERVIER – For the exclusive of health care professionals
Figure 1: Rate differences for outcomes stratified by black and white race.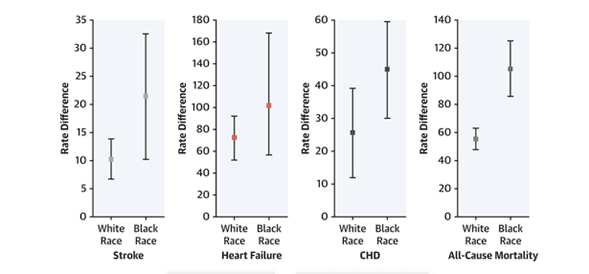 Keep up to date with our content
Subscribe to our newsletter so that you are always up to date with the news.
You can unsubscribe at any time by clicking on the link in our emails.