Effect of fixed-dose combinations of rosuvastatin plus ezetimibe in patients with primary hypercholesterolemia: MRS-ROZE study
Dyslipidemia is a major modifiable risk factor for the development of cardiovascular disease. Indeed, the reduction in LDL cholesterol is associated with a risk reduction of major vascular events ¹.
However, despite the efficacy of statins monotherapy to reduce LDL cholesterol levels, almost 2 out of 3 patients do not achieve their guidelines recommended target ². Increasing the dose of statin monotherapy usually only leads to a limited reduction in the LDL cholesterol levels and is associated with a higher incidence of side effects. Therefore, the reduction of LDL cholesterol levels combining statins with other lipid lowering drugs such as Ezetimibe appears as a very interesting option. MRS-ROZE was the first study to compare the LDL cholesterol-lowering effects of fixed- dose combinations of rosuvastatin 5, 10, or 20 mg plus ezetimibe 10 mg, as compared with rosuvastatin alone, in 407 patients with primary hypercholesterolemia1.
This study demonstrated that fixed-dose combination of rosuvastatin plus ezetimibe significantly reduce total cholesterol, LDL cholesterol, non-HDL cholesterol, triglyceride levels, and apolipoprotein B levels versus rosuvastatin alone. The reduction in LDL cholesterol was consistent and significantly greater in all the rosuvastatin/ezetimibe combination groups versus rosuvastatin alone (figure 1). In addition, with the combination rosuvastatin/ezetimibe, more patients achieved their LDL cholesterol target, recommended by guidelines. Additional benefits were also observed with the combination of rosuvastatin and ezetimibe in patients with diabetes and in patients with metabolic syndrome ¹.
In conclusion, in patients with primary hypercholesterolemia, the combination of rosuvastatin and ezetimibe appears as an excellent option as to reduce cholesterol levels and achieve the LDL cholesterol target recommended by guidelines. In patients with diabetes or in patients with metabolic syndrome this combination should be also considered as it provides even more benefits than the statin monotherapy.
Figure 1
Comparison of the percent changes in LDL cholesterol between monotherapy and combo therapy for 8 weeks: pooled data and data of the three different doses. Bars represent standard errors; LDL, low-density lipoprotein; LS means, least-squares means; R, rosuvastatin (pooled); E, ezetimibe 10 mg; R5, rosuvastatin 5 mg; R10, rosuvastatin 10 mg; R20, rosuvastatin 20 mg. *P<.05 for the specified between-treatment difference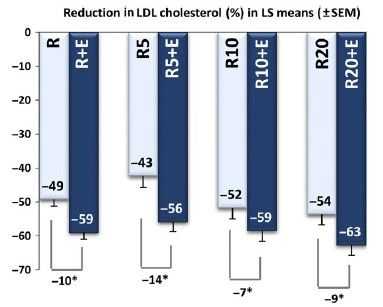 References:
1 Kyung-Jin Kim et al. Effect of fixed-dose combinations of ezetimibe plus rosuvastatin in patients with primary hypercholesterolemia: MRS-ROZE (Multicenter Randomized Study of Rosuvastatin and eZEtimibe) Cardiovascular Therapeutics 2016; 34: 371–382
2 Jose R. Gonzalez-Juanatey et al. Prevalence and Characteristics of Lipid Abnormalities in Patients Treated With Statins in Primary and Secondary Prevention in Spain. DYSIS-Spain Study; Rev Esp Cardiol. 2011;64⁴:286–294. LDL: Low Density Lipoprotein
For the exclusive use of healthcare professionals SCAC-06/23-DM-036-LIP SERVIER

Keep up to date with our content
Subscribe to our newsletter so that you are always up to date with the news.
You can unsubscribe at any time by clicking on the link in our emails.