Women have a higher risk of cardiovascular events than men
Did You Know: Women have a higher risk of cardiovascular events than men?
Obstructive coronary artery disease is an important cause of ischemia in both men and women; **however, women are more likely to experience ischemia in the setting of non-obstructive coronary arteries (INOCA) and myocardial infarction without obstructive coronary arteries (MINOCA). ** ¹
A 2020 study titled "Prediction of Different Causes of Mortality by Exercise Echocardiography in Women" conducted in 4,714 women with suspected coronary artery disease (age, 64±11 years) showed that Cardiovascular and non-cardiovascular mortality was 4 times higher in women with low functional capacity (<7 METs) compared to women with high functional capacity (>10 METs) (2.2% vs. 0.6%; P<0.001). ²
*METs: Equivalentes metabólicos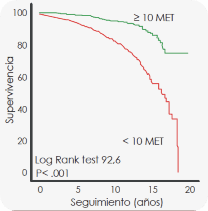 Knowing that, it is essential to raise awareness among all female patients about the importance of regular physical activity, to improve their quality of life and their ability to exercise, to have a long-term impact on cardiovascular mortality. ³
At the same time, it is important to follow up on pharmacological treatment, considering a metabolic anti-ischemic that favors the glucose pathway to produce more ATP (+33%) with the ability to optimize the little oxygen available in ischemia, improving cardiac contraction and, therefore, improving exercise capacity, as Trimetazidine demonstrated on many patients over the years. ⁴
References
1.Jingwen Huand & al. - Mechanisms of coronary ischemia in woman - Cardiology Reports, 2022; 24:1273-1285
2. Assessing Cardiac Metabolism - A Scientific Statement From the American Heart Association Heinrich Taegtmeyer
3. Mortality reduction with physical activity in patients with and without cardiovascular disease, European Heart Journal (2019) 40, 3547–3555
4. Suljic. The role of metabolic therapy with trimetazidine in effort tolerance in patients with ischemic heart disease. Med Glas (Zenica) 2018 Aug41;15²:109-11
SCAC-05/23-DM-272-VAS - For use exclusive of the health care profesional

Keep up to date with our content
Subscribe to our newsletter so that you are always up to date with the news.
You can unsubscribe at any time by clicking on the link in our emails.