Use of Triple Therapy (Perindopril Arginine/Indapamide/Amlodipine) in the Management of Hypertension in Two SubSaharan African Island Countries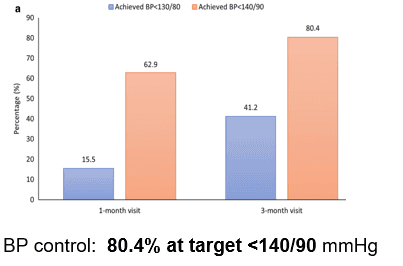 Armand Mbanya ; Adv Ther (2022).
(https://doi.org/10.1007/s12325-022-02134-0)
The benefits of single pill combination versus free-equivalent combination is now strongly supported by the latest 2018 ESC/ESH and 2020 ISH guidelines, which also consider RAAS blocker , CCB and thiazide like diuretic as the optimal combination.
In sub-Saharan Africa, most patients with hypertension require two or more drugs to control their blood pressure, however there are few (if any) studies evaluating the effectiveness and tolerance of triple SPC in this population. This multicenter prospective observational study evaluated perindopril /indapamide/amlodipine SPC in 198 ambulatory hypertensive patients from Madagascar and Mauritius.
PER/IND/AML SPC had showned not only significantly lower mean SBP /DBP already at the 1-month but also its persistent and improved effect after 3-months
Considering the new 2018 ESC/ESH and ISH guidelines that recommend more stringent BP targets, achievement of BP control will be even more challenging. This is particularly relevant for sub-Saharan African countries (population known to have earlier and stronger hypertension, a higher frequency of resistant hypertension and target organ damage compared to other races). The results of this study demonstrated that three-component therapy with perindopril, indapamide, and amlodipine is efficient also in this specific, mixed African and Asian population living in Madagascar and Mauritius, is safe and well tolerated. In general it is acknowledged that SPC increase adherence and treatment persistence compared to free-combination therapies
RAAS: Renin-angiotensin-aldosterone system/CCB: calcium channel blocker/SPC: single pill combination/BP: blood pressure
SCAC 06/22 DM 195 SERVIER- For the exclusive use of the health care professional

Keep up to date with our content
Subscribe to our newsletter so that you are always up to date with the news.
You can unsubscribe at any time by clicking on the link in our emails.