The combination of beta blockers and ACE inhibitors across the spectrum of cardiovascular diseases.
The prevention of cardiovascular disease, the leading cause of mortality worldwide, is a major public health priority. The B-blockers and ACE inhibitors provide complementary actions on the sympathetic nervous system and renin–angiotensin–aldosterone system, two interlinked pathways that influence cardiovascular risk, disease outcomes, and disease progression
The recent guidelines recommend combining treatments according to the patient profile, preferably in an SPC, using drugs providing 24-h efficacy with once-daily administration. These recommendations, together with the existing robust evidence on the benefits of b-blocker and ACE inhibitor use in patients with hypertension with elevated heart rate, CAD, AF, and heart failure provide the valuable scientific arguments to use Bisoprolol + Perindopril a new single pill combination as a valuable treatment option in these at-risk patients, allowing them to more rapidly achieve target heart rate, optimal blood pressure levels while reducing cardiac events.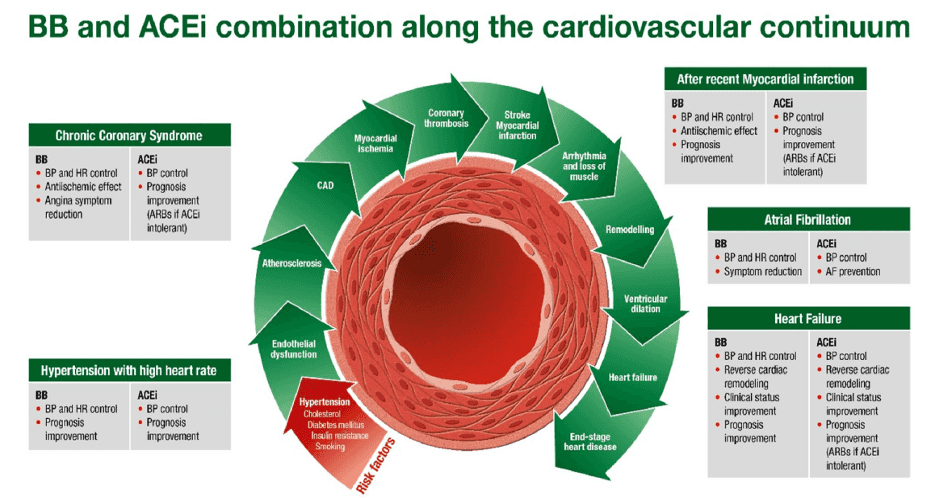 Keep up to date with our content
Subscribe to our newsletter so that you are always up to date with the news.
You can unsubscribe at any time by clicking on the link in our emails.