Postinfarction statins, an unquestionable benefit. How to act easily in grade II hypertensive patients?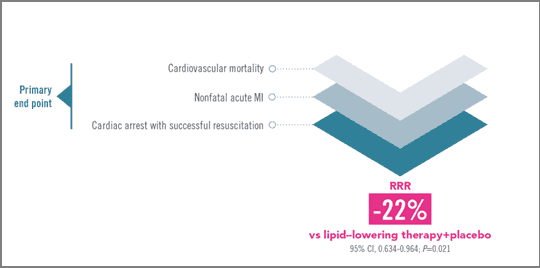 CARE2, 4S3, LIPID4 studies clearly and unequivocally demonstrate that the recommendations of the guidelines regarding the use of statins after an MI must be followed without hesitation, their results show that the use of statins significantly reduces the risk of new cardiovascular events (CVD), total mortality, ischemic stroke, and hospitalizations for HF after MI, therefore:1
Every patient after an MI should receive treatment with potent statins from the moment of admission, if possible.

This treatment must be maintained indefinitely.
Thanks to the new presentation in a single 40mg tablet of Atorvastatin, Perindopril 10mg and Amlodipine 10mg, hypertensive patients can benefit from statins early and in a single tablet, facilitating their adherence as demonstrated in the EUROPA study where more than 60% of the patients had a history of myocardial infarction.5
https://www.medigraphic.com/pdfs/archi/ac-2002/ac021j.pdf
SACKS FM, PFEFFER MA, MOYE LA, ROULEAU JL, RUTHERFORD JD, COLE TG, ET AL: The effect of 66 E Galve www.cardiologia.org.mx pravastatin on coronary events after myocardial infarction in patients with average cholesterol levels. N Engl J Med 1996; 335: 1001-1009
Scandinavian Simvastatin Survival Group: Randomized trial of cholesterol lowering in 4444 patients with coronary heart disease: the Scandinavian Simvastatin Survival Study (4S). Lancet 1994; 344: 1383-1389
The Long Term Intervention with Pravastatin in Ischaemic Disease (LIPID) Study Group: Prevention of cardiovascular events and death with pravastatin in patients with coronary heart disease and a broad range of initial cholesterol levels. N Engl J Med 1998; 339: 1349-1357
Bertrand et al. Am J Cardiovasc Drugs. 2016. DOI 10.1007/s40256-016-0175-2
To know more : Click here
SAC 05/22 ME 163 SERVIER – For the exclusive use of the health care professional

Keep up to date with our content
Subscribe to our newsletter so that you are always up to date with the news.
You can unsubscribe at any time by clicking on the link in our emails.