In heart failure, ACEi maintain the maximum level of evidence 1A vs ARNi with level of evidence 1B
With the development of newer medications in Heart Failure management, many doctors have started to question the relevance of ACEi in Heart Failure. The 2022 ESC Guidelines highlights the matter of ACE inhibition in heart failure management giving ACEi 1A recommendation vs ARNi 1B recommendation.
This powerful level A recommendation speaks to the potent data consistently demonstrating improvements in cardiac remodeling and ejection fraction, reductions in symptoms, hospitalization and mortality in several randomized clinical trials worldwide.
Learn more about the ESC 2021 guidelines below:
https://academic.oup.com/eurheartj/article/42/36/3599/6358045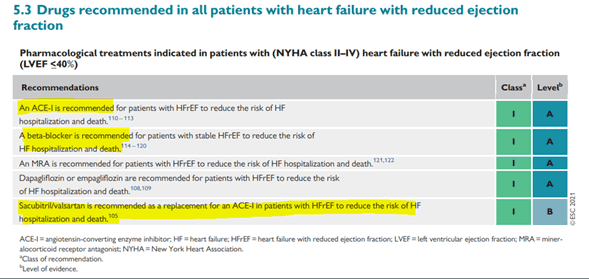 ACE-I: angiotensin converting enzyme inhibitors/ARNi: Angiotensin Receptor-Neprilysin Inhibitor ACE-I: angiotensin converting enzyme inhibitors
SCAC 06/22 DM 191 SERVIER-For the exclusive use of the health care professional

Keep up to date with our content
Subscribe to our newsletter so that you are always up to date with the news.
You can unsubscribe at any time by clicking on the link in our emails.