Home and Online Management and Evaluation of Blood Pressure (HOME BP) using a digital intervention in poorly controlled hypertension: randomised controlled trial
Hypertension is the major risk factor for cardiovascular disease internationally and evidence from several randomised controlled trials shows that this risk can be reduced by lowering blood pressure.1, 2 In the United Kingdom, almost 30% of adults have raised blood pressure (≥140/90 mmHg), with the proportion increasing to more than 50% in people aged 65 and older.3
Digital interventions (apps, programmes, or software used in a health context) have the potential to support people in self-management.4, 5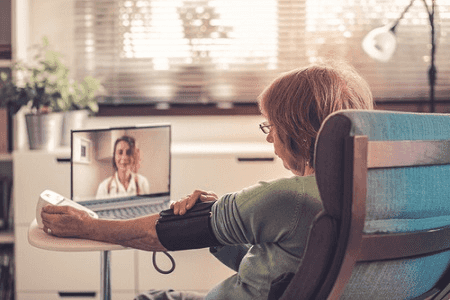 So the HOME BP (Home and Online Management and Evaluation of Blood Pressure) trial aimed to test a digital intervention for hypertension management in primary care by combining self-monitoring of blood pressure with guided self-management, where were more than 600 participants with treated but poorly controlled hypertension (>140/90mmHg) and access to the internet.
The primary outcome was the difference in systolic blood pressure (mean of second and third readings) after one year, adjusted for baseline blood pressure, blood pressure target, age, and practice, with multiple imputation for missing values.
After one year, data were available from 552 participants (88.6%) with imputation for the remaining 70 participants (11.4%). Mean blood pressure dropped from 151.7/86.4 to 138.4/80.2 mmHg in the intervention group.
As the main conclusion is that the HOME BP digital intervention for the management of hypertension by using self-monitored blood pressure led to better control of systolic blood pressure after one year than usual care, with low incremental costs.
1.Lim SS, Vos T, Flaxman AD, et al. A comparative risk assessment of burden of disease and injury attributable to 67 risk factors and risk factor clusters in 21 regions, 1990-2010: a systematic analysis for the Global Burden of Disease Study 2010. Lancet 2012;380:2224-60. doi:10.1016/S0140-6736(12)61766-8. 2 Brunström M, Carlberg B. Association of blood pressure lowering with mortality and cardiovascular disease across blood pressure levels: a systematic review and meta-analysis. JAMA Intern Med 2018;178:28-36. doi:10.1001/jamainternmed.2017.6015 3 Health Survey for England 2017 Trend Tables. London: Health and Social Care Information Centre Information Centre; 2018 https://digital.nhs.uk/data-and-information/publications/statistical/healthsurvey-for-england/2017. 4 Greaves F, Joshi I, Campbell M, Roberts S, Patel N, Powell J. What is an appropriate level of evidence for a digital health intervention?Lancet 2019;392:2665-7. doi:10.1016/S0140- 6736(18)33129-5. Morton K, Dennison L, May C, et al. Using digital interventions for self-management of chronic physical health conditions: A meta-ethnography review of published studies. Patient Educ Couns 2017;100:616-35. doi:10.1016/j.pec.2016.10.019 BMJ: first published as 10.1136/bmj.m4858 on 19 January 2021
SCAC 05/22 ME 159 SERVIER - For the exclusive use of the health care professional

Keep up to date with our content
Subscribe to our newsletter so that you are always up to date with the news.
You can unsubscribe at any time by clicking on the link in our emails.